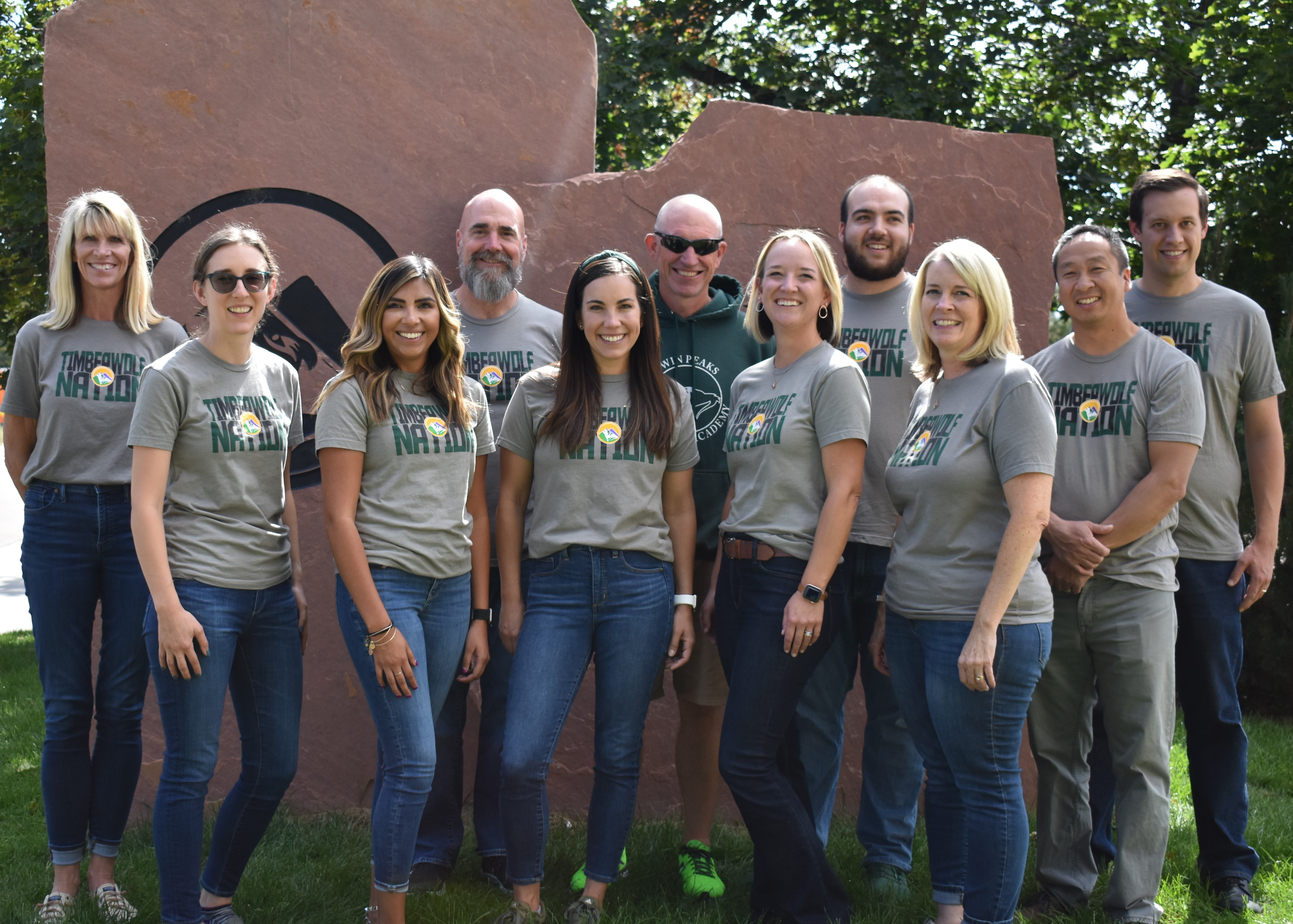 Joe Mehsling - Executive Director
Mr. Mehsling serves as TPCA's Executive Director. Previously, Mr. Mehsling taught, coached and served as Assistant Principal at Sunset Middle School and Silver Creek High School. He spent ten years as Principal of Altona Middle School where he and his team received the John Irwin Award and the Governor's Distinction Award, in addition to being designated a School to Watch by the Colorado Association of Middle Level Educators. He was named the Colorado Middle School Principal of the Year in 2012.
After high school, Mr. Mehsling spent six years as an infantryman in the United States Marine Corps. He attended the University of Colorado at Boulder majoring in political science and history, graduating magna cum laude. He later obtained his M.A. in Educational Leadership from the University of Northern Colorado.

When not at work, Joe enjoys spending time with his wife, Mary Katherine, who is also an educator. He is happiest in the great outdoors; hunting, fishing, gardening, and beekeeping. As a Colorado native, he's a huge Broncos fan!

Second only to good parenting, Mr. Mehsling believes public education plays a critical role in developing good citizens with outstanding character. He also fundamentally agrees with TPCA's mission and core philosophies. Mr. Mehsling is excited to be a part of the Twin Peaks family and looks forward to leading the school in its next phase of excellence.
Amber Coniff - Elementary Principal
Mrs. Coniff has been at TPCA since 2016. As the K-5 Principal, she loves being a member of the TPCA community, where the staff, students and families work together to support a productive learning environment. She feels strongly that charter schools founded in strong character and academics open the doors of opportunity for their students.

Mrs. Coniff graduated from Metropolitan State College in Denver and began her elementary teaching career in 1994. She had the opportunity to teach Core Knowledge in kindergarten through sixth grade. As she pursued a Master's Degree in Educational Leadership from the University of Denver, she worked as the Dean of Students and eventually the Assistant Principal of The Academy of Charter Schools in Westminster.

Mrs. Coniff is a Colorado native and grew up in the Arvada area. She and her husband, Jeff, live in Firestone with their three dogs. She has two adult children and spending time with them is her favorite pastime, alongside kayaking, reading, and travel.
Max Kleber - Elementary Assistant Principal
Max Kleber is excited to be part of the Twin Peaks team. He enjoys contributing to the work of promoting academic excellence and strong character.

His past experience includes working as a teacher, program director, and headmaster at a private school in Utah. He is thrilled to be back in Colorado, where he grew up and graduated from Berthoud High School before earning his Bachelor's degree in Political Economy from Hillsdale College.

Mr. Kleber lives in Loveland with his wife and two dogs. In his free time he enjoys reading, spending time with his family, and watching baseball.
Alissa Gutierrez - Elementary Assistant Principal
Ms. Gutierrez started at Twin Peaks in 2020 as a first grade teacher and then moved into the Assistant Principal role in 2022. She loves being a Timberwolf and is excited to be at Twin Peaks in her new role. She loves working with students and teachers on being the best they can be as well as promoting excellence in and out of the classroom.

Ms. Gutierrez was born and raised in Colorado and grew up in Erie, Colorado. She then went on and got her bachelor's degree in Elementary Education at the University of Wyoming. GO COWBOYS! She was a teacher for 4 years at a previous charter school before coming to Twin Peaks.
Ms. Gutierrez coaches high school cheerleading in her free time. She also loves to travel and spend time with her family!
Alycia Burns - Middle School Principal
Mrs.Burns began at Twin Peaks in 2011 teaching middle school language arts, and then serving as Assistant Principal beginning in 2017. After a stint as Principal at Union Colony Preparatory in Greeley, Alycia loves being back at Twin Peaks as the Middle School Principal.

Mrs. Burns has a bachelor's degree from Colorado State University in English Education and will always be a Ram at heart. Her master's degree in Administrative Leadership and Policy Studies is from Colorado University Denver, but she certainly is not a Buff.

She and her husband, Colin, and their two girls, live in Berthoud with their horses, cats, and a dog. They enjoy camping, good food, and travel.
Maggie Sisk - Middle School Assistant Principal
Mrs. Sisk is thrilled to be part of the Twin Peaks family. She and her husband and daughter recently moved back to the area from Denver. Both she and her husband went to CU Boulder and have been busy re-exploring the surrounding areas, specifically the local restaurant scene.

Mrs. Sisk has been in education for 11 years and in leadership for three. She graduated from CU with degrees in Psychology and Elementary Education. After a few years in the classroom, in Adams12 and abroad, she moved her teaching career to Denver Public Schools and began her Master's in Educational Leadership and Administration at Regis University. She completed both her Master's Degree and Principal Licensure in 2017. Soon after, she began honing her skills as a Middle School Dean and finding her passion working closely with students and teachers to create and habituate the systems that allow both to reach their goals.

Outside of school, Mrs. Sisk enjoys spending time with her family, getting into the mountains, reading, relaxing and of course eating great food. She is very excited to get to know Twin Peaks families and support students throughout their years here.
David Yu - High School Principal
As High School Principal, Mr. Yu is excited to be a part of TPCA.

Mr. Yu grew up in Denver and graduated from Colorado State University with a degree in mathematics. He has a concentration in actuarial science and education. During his career, David has taught mathematics for 16 years. During his career, he has worked with schools in Colorado, Idaho, Louisiana, Minnesota, and Washington DC, working to build a coherent and viable mathematics program. Additionally, he served as the Executive Director of Education at Loveland Classical Schools for three years.

Mr. Yu and his wife, Tabitha, have two children, Zoe and Ethan. He is excited to be a part of TPCA as the High School Principal.
Rachel Cook - High School Assistant Principal
Having worked in education throughout her career, Ms. Cook is delighted to join Twin Peaks as the High School Assistant Principal.

Ms. Cook, who is originally from Michigan, knows the benefits of a charter school education because she attended a charter school K-12. Ms. Cook then matriculated to Hillsdale College, where she worked in the college's Writing Center and developed a passion for guiding students to develop their skills.

After graduating, Ms. Cook worked in Salt Lake City for a private school. She taught English, history, and logic at a middle school level and followed a classical school approach that emphasized analyzing primary sources. She also developed her leadership skills as a Manager in Training, advising teachers and students in the art and science of education.

Ms. Cook is delighted to settle down in Colorado with her husband, Max Kleber. She looks forward to supporting students in their pursuit of the good, the true, and the beautiful.
Cameron Wright - Athletic Director
Mr. Wright came to Twin Peaks as head basketball coach for the 2015/16 season. He immediately felt right at home. He is now the Athletics and Activities Coordinator as well as Secondary Assistant Principal.

Coach Wright understands the benefits of a charter school education as his two sons, now grown, spent their early school years at TPCA.

Coach Wright is looking forward to building the athletic program and creating an atmosphere of school pride around that program. He wants the whole District to know that we have great kids at TPCA . Go Timberwolves!
Amy Anderson - Human Resources
Ms. Anderson has over 25 years experience in human resources and benefits administration. A self-described "benefits geek," she enjoys reading trending topics and attending seminars to keep current in the ever-changing world of benefits and employment law.

Ms. Anderson started in Human Resources during the 2006 – 2007 school year and she's just as passionate about "all things HR" as she was at the beginning of her career. Her favorite thing about her job? Never having the same day twice.

Ms. Anderson spent her childhood in Niwot. She studied psychology while attending the University of Colorado on a track scholarship and aside from ten years in Orlando, has spent her adulthood in the Longmont area.

Ms. Anderson's favorite activity has always been watching her daughter compete in volleyball and track, which includes supporting her as a collegiate athlete. She's proud to call herself a Timberwolf and is excited about the direction of TPCA.