At Twin Peaks Classical Academy, there are so many reasons why our students are thriving at our tuition-free charter school. Here are our top 10!
1. Knowledge Starts Here
We are one of the country's leading educators in Classical Education, which teaches reading, writing and math through the Classical Education stages of Grammar (Elementary), Logic (Middle School) and Rhetoric (High School). We teach character development at each grade level - from direct instruction about respect at the elementary level to examining classical writings and encouraging critical discussion around values-based topics in the middle and high school levels. Our students are developing thinking skills and natural curiosity - what better way to inspire a lifelong love of learning?
2. We Teach Latin!
Starting in Kindergarten through 8th grade and continuing as an elective in high school, Twin Peaks students learn Latin every day. Latin mastery is central to a classical education, helping students understand English grammar in a deeper way and opening doors to classical literature. Latin serves as the basis for Romance languages, which are offered to our high school students. Learning Latin is even proven to lead to higher SAT scores!
3. Sports Teams for All
Unlike larger schools who cut athletes based on experience and ability, our small-school setting encourages students to try new sports and clubs and explore their interests, regardless of experience level. From elementary sports samplers to middle and high school teams in basketball, soccer, volleyball, track and field, and cross country - our athletics program welcomes all!
4. Excellent College Prep
We are committed to student success - in high school and beyond. Our high schoolers can access a broad variety of academically challenging AP classes, college field trips and recruiting visits. Starting in 9th grade, our talented staff work with each student to create an individualized pathway for success after graduation. Taking learning out of the classroom into the community, each Twin Peaks graduate is required to complete 100 hours of volunteer work - helping out in nonprofit organizations throughout our community.
5. A Thriving Arts Program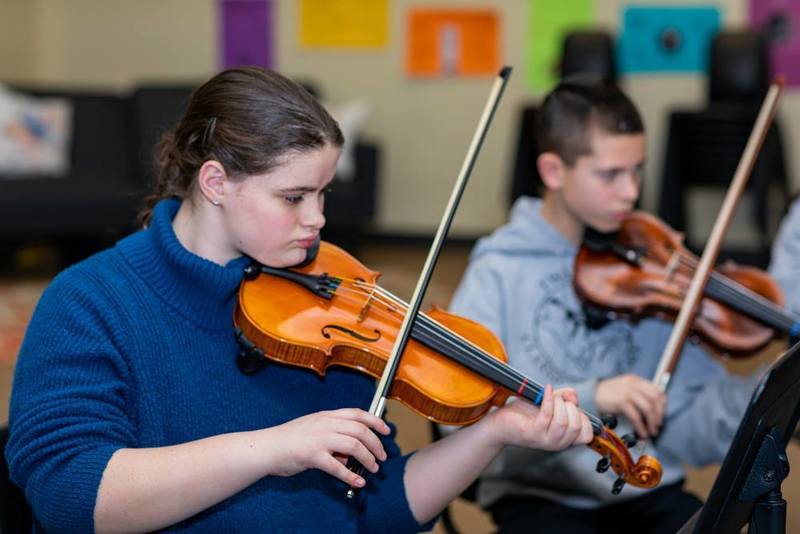 In a time when many public school art programs have been cut or eliminated, Twin Peaks is known for our robust art and music programs. Students in all grades have access to excellent orchestra and band programs and robust performing arts offerings. Our art department supports two full-time designated art teachers. We invite families on campus to enjoy exhibits of student work and performances, and field trips bring our students to area museums and theaters.
6. A Safe and Secure Campus
We prioritize student safety and maintain a safe and secure learning environment. Our staff know each student personally and check in with them throughout the year. We offer student support services and can link students to outside resources if they need them.
7. We Know Our Students
We are the only school in the area that offers PK-12 education. Those grades, combined with our small-school setting, creates a school where staff and teachers know every student - and their families - by name. We are a tight knit community!

8. We Celebrate Excellence
Twin Peaks students routinely score in top percentiles statewide on standardized tests, and our classical education model features opportunities in each grade for highly motivated students to explore topics on a deeper level. Each year, Twin Peaks middle and high school students participate in district and state music competitions. Our school culture celebrates excellence!
9. Support for All Learners
All learners are welcome here - from students needing extra support to those who want to engage more deeply in their learning. We offer effective after-school teacher and student-led tutoring and challenging enrichment opportunities that inspire all students to thrive.
10. School Pride!
We love our school and it shows! Respectful classroom culture, engaged families, and friendly and caring teachers and staff all come together to support our students and instill pride in our school. Come visit and see for yourself!


These are just some of the ways that Twin Peaks Classical Academy serves our students with top-notch classical education in a tuition-free charter school environment. Are you interested in learning more about how classical education can be a fit for your child? Contact us and enroll today!

About Twin Peaks Classical Academy

Twin Peaks Classical Academy is a tuition-free charter school serving PK-12 grade students in the Longmont, CO area. Our traditional Classical Education curriculum connects students with a higher purpose by inspiring knowledge and developing character. Students are supported by a tight-knit community of caring teachers and staff and engaged families. Join our public charter school today! Enrolling now.