Whether you're the parent of an 8th grader or you're currently a high school sophomore, you may be wondering when is the right time to start making plans for life beyond graduation. The answer may surprise you - the time is now!
At tuition-free Twin Peaks Classical Academy, we work every day to prepare our students for success after high school. How do we do it?
Eye-Catching Education
Our small charter school offers private school level curriculum at a tuition-free price. From academically rigorous honors classes in middle and high school to 16 options for AP classes that enable our students to earn college credits, we are extremely competitive with all of the top schools in our state. And that means we are "on the radar" of admissions officers in colleges across the country.
Testing Practice - and Results
Our curriculum and rigorous academic setting prepare students to be successful on any academic standardized tests. And the results speak for themselves: our middle and high schoolers consistently test into the top tiers for standardized tests in Colorado - bolstering their college applications and serving as a great predictor of success in college.
Building College Connections
One of the most important actions that a high school student can take is establishing contacts with college reps and recruiters prior to submitting an application. Twin Peaks invites college and military recruiters to our campus throughout the school year. These meet-and-greets are encouraged by our staff and are a great opportunity for students to learn more about the college, get questions answered, and gain some visibility for future applications. We also visit nearby colleges in school sanctioned field trips - a valuable opportunity to get a feeling for a school and see if it's a fit for your goals.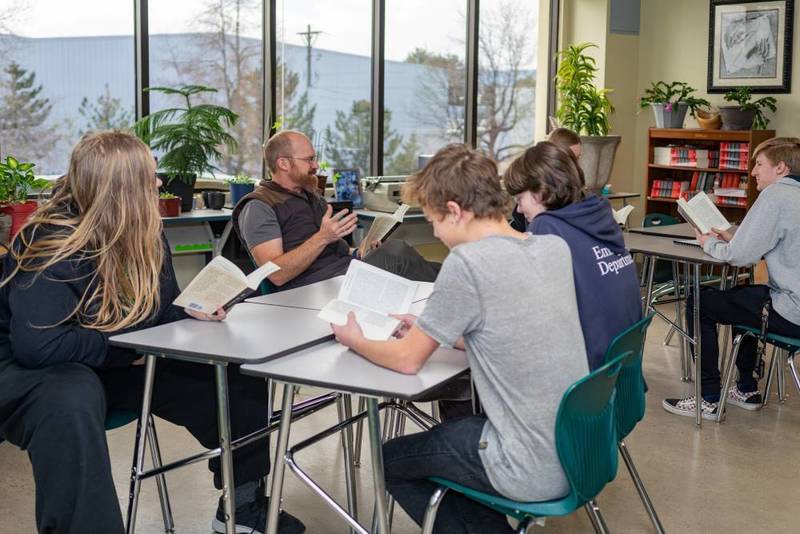 Individualized Pathways
Every incoming freshman at Twin Peaks meets with an academic advisor to start setting post-graduate goals. Our assistant principals help students assess their skills and interests and then follow them throughout their high school career to track their progress towards their goals. This resource is free for all students and a critical component in post graduate success. We believe in our students and understand that every student is unique, so these academic pathways can be easily adjusted as goals change and new interests develop.
Academic Support
Does your student struggle in a subject? Need extra help with homework? Or just need some support in organizing their to-do lists? Twin Peaks offers a robust program of after-school tutoring that is available to all students. From one-on-one faculty support to peer tutoring, we have options that work for all learners and help them be the best students they can be.
Twin Peaks Classical Academy is more than just an education - we are creating student pathways for success in college and beyond. Are you ready for your future? Contact us and enroll in our tuition-free charter school today!
About Twin Peaks Classical Academy
Twin Peaks Classical Academy is a tuition-free charter school serving PK-12 grade students in the Longmont, CO area. Our traditional Classical Education curriculum connects students with a higher purpose by inspiring knowledge and developing character. Students are supported by a tight-knit community of caring teachers and staff and engaged families. Join our public charter school today! Enrolling now.