At Twin Peaks Classical Academy, we are proud to inspire our students with excellent traditional Classical Education, in a tuition-free charter school setting. But we also recognize that not all students are alike. So we have developed an engaging curriculum, targeted support services and extracurricular opportunities to reach all Twin Peaks learners
Curriculum that Inspires
Motivated learners at Twin Peaks find many opportunities to challenge themselves through our sequenced Core Knowledge curriculum. Knowledge, language, and skills build cumulatively from grade to grade. Motivated students at all ages are given time to explore concepts in greater depth to extend their learning. Our academically rigorous High School curriculum includes AP classes in 16 subjects including Calculus, Biology, Latin, Literature, History and more.
Assistance When It's Needed
Whether your child needs some extra support working on a project or could benefit from one-on-one math instruction, our tutoring services are here to help. Thanks to our small-school environment, Twin Peaks classroom teachers get to know each student well and will reach out to parents if they see their child struggling with a subject. Our teachers offer free after-school tutoring for all grade levels. We also offer peer tutoring in approved subjects throughout the school year.
Diverse Learners Welcome
As a public charter school, Twin Peaks is able to offer Special Education services, including IEP and 504 Plan support for learners who qualify. We have an Elementary and Secondary Special Services Interventionist as well as a Speech/Language Pathologist on staff who can conduct assessments and help families navigate accommodations and academic support options for their child.
Clubs & Electives For Everyone
Engaging learners shouldn't stop at the classroom door. Twin Peaks offers a wide variety of afterschool clubs and electives to inspire curiosity in all ages. From band and choir programs to theater performances, art lessons, and IT classes, we have opportunities for everyone.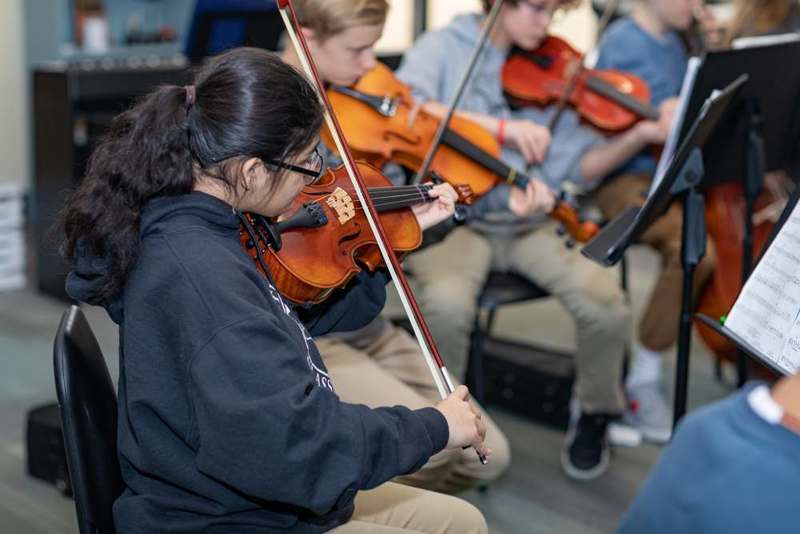 Are you interested in learning more about how Twin Peaks Classical Academy can inspire a love of learning in your child? Contact us today.
About Twin Peaks Classical Academy
Twin Peaks Classical Academy is a tuition-free charter school serving PK-12 grade students in the Longmont, CO area. Our traditional Classical Education curriculum connects students with a higher purpose by inspiring knowledge and developing character. Students are supported by a tight-knit community of caring teachers and staff and engaged families. Join our public charter school today! Enrolling now.